ARE YOU SEARCHING FOR SCHOLARSHIP? DON'T WORRY YOUR WAIT IS OVER. ONGC BRINGS A SCHOLARSHIP FOR THE STUDENTS PURSUING UG AND PG COURSES LIKE ENGINEERING (of any branch), MBBS, MBA, GEOLOGY, AND GEOPHYSICS PROGRAMME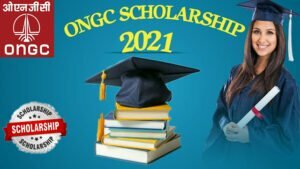 ABOUT ONGC?
Oil and Natural Gas Corporation

 (

ONGC

) is an Indian 

government-owned

 crude oil and natural gas corporation. Its registered office is in 

New Delhi

. It is under the 

ownership

 of the 

Ministry of Petroleum and Natural Gas

, 

Government of India

. It is the largest 

oil and gas exploration

 and production company in the country and produces around 70% of India's 

crude oil

 (equivalent to around 57% of the country's total demand) and around 84% of its 

natural gas

. 

In November 2010, the Government of India conferred the 

Maharatna

 status to ONGC
.
ABOUT THE ONGC SCHOLARSHIP SCHEME 2021. 
Aiming to bring about changes in Indian society, ONGC Foundation has been striving in the fields of education, health, livelihood, and many more. It has provided scholarships to meritorious SC/ST/OBC/GEN-EWS students pursuing courses of Engineering, MBBS, MBA, Geology and Geophysics under the scheme – 'Scholarship to meritorious students to ensure that the talented students belonging to the economically backward classes get equal opportunity to perform their best in their respective educational domains and shine bright in the future. 50% of the scholarships are reserved for the female candidates to promote women empowerment through their education. This would also help to promote education amongst the underprivileged and weaker sections of the society who are otherwise unable to support their own education. This would encourage the meritorious students of SC/ST category to pursue higher education without having to worry about the finances. 
As a result, a large number of students will be able to fulfill their dreams and be successful in their careers which will also inspire others who come from similar backgrounds to pursue higher education and achieve success. Under this scheme, scholarships have been provided to meritorious students in different years.
The aim of this scholarship is to provide financial support to the meritorious students belonging to the ST/SC/OBC/GEN-EWS Category. Selected 500 students from each category will receive a scholarship of INR 48,000 each on an annual basis to enable them to complete their education.
Check Other Scholarship
ONGC SCHOLARSHIP PREVIOUS YEAR MERIT LIST 2019-2020
ELIGIBILITY CRITERIA OF ONGC SCHOLARSHIP
ACADEMIC QUALIFICATION
Candidate should be a student of

1st year of Graduate Engineering

or MBBS courses or 1st year of Master's degree in Geology/Geophysics or MBA

The scholarship shall be admissible only for pursuing full-time regular courses by AICTE/ MCI/UGC/Association of Indian Universities/State Education Boards/State Government/Central Government.

Have secured a

minimum of 60%

marks in class 12 for Engineering/MBBS course and a minimum of 60% marks in graduation for PG courses in Geology/Geophysics/MBA (Note: The minimum OGPA/CGPA should be 6.0 in 10 points scale of grading system)
INCOME CRITERIA
Income not to exceed 2 lakh Per Annum
This scheme is only applicable for Male / Female students
The age limit of Applicant is maximum 30 years as on 1st July 2020
TERM AND CONDITION FOR ONGC SCHOLARSHIP
50% scholarships are reserved for girl students.
Students need to maintain a minimum of 60% or 6 grade points out of 10 in      each  year's semester examination to ensure the continuation of the scholarship. The selected candidate must not be availing the benefits of any other scholarship or financial assistance from any other source
SC/ST caste certificate issued by competent government authorities is to be furnished

. 
Students must ensure they provide the active bank account details which should not likely to be changed later after selection. 
Active mobile number and email are requested to be provided. 
The specific zone where a student can apply for this scholarship depends on the location of the University/Institute/College in which the student was studying for the qualifying examination 
Student shall be eligible for ONGC Scholarship scheme (if selected, as per the eligibility criteria) only for one course of study once in lifetime 
Decision of the ONGC with regard to selection will be final. No correspondence on the selection process will be entertained 
Company has the discretion to alter or discontinue the scholarship without any prior notice 
In case, of any information declared at the time of initial online application is found incorrect during scrutiny or thereafter, the application of such candidates shall be summarily rejected

.
DOCUMENTS NEEDS TO BE UPLOADED WHILE APPLYING FOR ONGC SCHOLARSHIP
Certified copy of Caste Certificate in Hindi/English.
Copy of Birth Certificate/Class 10 Mark sheet as proof of age.
Copy of Class 12-mark sheet in case of Engineering/MBBS students.
Copy of consolidated Graduation mark sheet in case of MBA/Masters in Geology/Geophysics students.
Certified copy of annual income certificate of the family in Hindi/English language.
Bank details of the applicant in the ECS form attested by the bank as prescribed.
Copy of PAN card or the tentative date for submission of PAN card copy (in case it is not available.
Copy of Adhaar Card.
Copy of undertaking

.
S.NO

STREAM

DURATION
OF THE
COURSE

NO: OF
SCHOLARSHIP

QUALIFYING
EXAMINATION

TOTAL
SCHOLARSHIP
AMOUNT PER ANUM

1

ENGINEERING

4 YEARS

300

 10+2

48000

2

MBBS

4 YEARS

50

10+2

4800

3

MBA

2 YEARS

50

GRADUATION

4800

4

MASTERS IN GEOLOGY/ GEOPHYSICS


2 YEARS


100


GRADUATION


4800
ZONE WISE DIST. OF ONGC 2021 SCHOLARSHIP
ZONE

ZONE-1
NORTH

ZONE -2
WEST

ZONE -3
NORTH EAST

ZONE -4
EAST

ZONE -5
SOUTH

STATES

J&K, Delhi, Punjab, Himachal Pradesh, Haryana, Chandigarh, Uttarakhand, Uttar Pradesh

Maharashtra, Gujarat, Rajasthan, Madhya Pradesh, Goa, Daman & Diu, Dadar & Nagar Havel

Assam, Sikkim, Mizoram, Arunachal Pradesh, Nagaland, Manipur, Meghalaya, Tripura

Bihar, Jharkhand, Odisha, Chhattisgarh, West Bengal

Tamil Nadu, Kerala, Karnataka, Andhra Pradesh, Telangana, Pudducherry, Lakshdweep, Andaman & Nicobar Islands

NO: OF SCHOLARSHIP


100


100


100


100


100
SELECTION PROCEDURE OF ONGC SCHOLARSHIP:
Selection of candidates will be made on the basis of aggregate marks obtained in the qualifying examination prescribed for each eligible course of study. In the case of students having equal marks in the qualifying examination students with lower family income will be selected.

Preference shall be given to students from below poverty line (BPL) families and other students shall be considered only if a sufficient number of students from BPL families fulfilling the eligibility criteria is not available

.




PAYMENT OF ONGC SCHOLARSHIP

The scholarship will cover a lump sum amount of Rs 4000/- (Four Thousand) per month i.e. Rs 48000/- Per Annum.
The amount shall be paid on yearly basis after completion of the academic year. The amount of scholarship will be deposited directly in the bank account of students through the ECS facility.
In case the student opts for any different scholarship subsequently after awarding of ONGC Scholarship, he/she should have to refund the entire scholarship amount received from ONGC Foundation

.
HOW TO APPLY FOR ONGC SCHOLARSHIP 2021.

Eligible candidate can fill  their application form from the official website of
ONGC.
OFFICIAL WEBSITE LINK

Application last date
LAST DATE OF APPLICATION IS 5th  OF SEP 2021.
SO MAKE SURE TO APPLY IT BEFORE TO AVOID LAST TIME RUSH.
Sample application form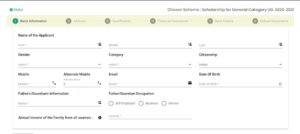 IF YOU HAVE ANY QUERIES REGARDING THIS SCHOLARSHIP YOU CAN ASK US IN THE COMMENT SECTION.